Jack Wilkinson Smith Biography
Born in Paterson, NJ on Feb. 7, 1873, Smith inherited his interest in art from his father who painted some of the decorations in the Capitol Building in Albany, NY. While in his teens, he studied at the AIC and was apprenticed to artist Gardner Symons in Chicago. He later worked as a commercial artist in Lexington, KY and went on to become a sketch artist with the Cincinnati Enquirer. While in Cincinnati, he studied at the Art Academy under Duveneck.
During the Spanish-American War his front-line sketches brought him national renown. In 1906 he settled in Alhambra, CA and established a studio-home in the eucalyptus grove called "Artists Alley" where his neighbors included Eli Harvey, Frank Tenney Johnson, and summer-resident Norman Rockwell. Smith was largely responsible for establishing the Biltmore Salon which exhibited and sold works by local artists during the early part of this century.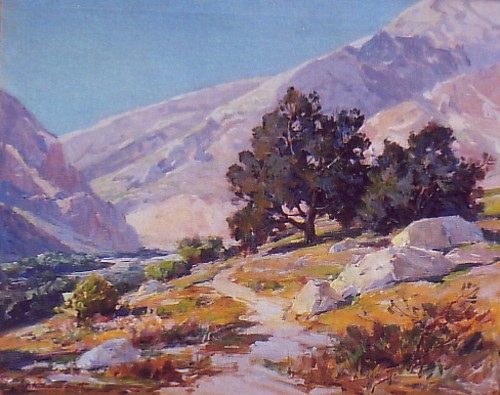 "California Landscape"
SOLD






In the Midwest he had worked in watercolor; however, upon moving to Los Angeles, he switched to oil. During the Depression he worked for Pacific Outdoor Advertising. An Impressionist, he traveled the state from one end to the other in search of subject matter. His Sierra landscapes, missions, and seascapes have made him one of California's most important painters. Smith died in Monterey Park, CA on Jan. 8, 1949.

Member: Laguna Beach AA; Academy of Western Painters; Allied AA; Salmagundi Club; Calif. WC Society. Exh: Calif. Art Club, 1913-19; Sketch Club (LA), 1914; Panama-Calif. Expo (San Diego), 1915 (bronze and silver medals); Friday Morning Club (LA), 1915; Calif. State Fair, 1917-19 (medals); Liberty Fair, 1918 (prize); LACMA, 1918 (solo); Phoenix Expo, 1920 (2nd prize), 1922 (1st prize); Stendahl Gallery (LA), 1922; Women's Club (Hollywood), 1922; Painters of the West, 1924-29 (gold medals); Ebell Club (LA), 1925; Biltmore Salon (LA), 1932-41; GGIE, 1939. In: Irvine (CA) Museum; Phoenix Municipal Collection; Orange County (CA) Museum; Athletic Club (LA); Gardena High School.



Source: "Artists in California 1786 to 1940" by Edan Milton Hughes



"Goat Herder"
SOLD


Call (800) 833-9185 or email to info@kargesfineart.com for further information